TOP 4 NEARBY PLACES TO VISIT DURING YOUR WONDERFUL STAY AT KARMA SUNSHINE VILLAGE
Karma Sunshine Village provides the best way for a quick getaway from the hustle and bustle of namma Bengaluru. The resort is situated miles away from the concrete jungle so that you can enjoy some quality time with your loved ones. Karma Sunshine Village brings the perfect amalgamation of rustic cabins along with grass roofs, bamboo facades, super-comfy wooden interiors, and avant-garde litter container homes – all these are enough to soothe your eyes and soul.
Karma Sunshine Village has myriads of on and off-site amenities and activities for you and your family members; the resort offers the perfect opportunity for getting relaxed and unwinding yourself for a few days with your loved ones. You will be glad to know that Karma Sunshine Village has every amenity that a natural and eco-friendly resort must have such as – a restaurant, activities centre, outdoor play arena, good accommodation, an amphitheatre, and a lot more. You should visit our resort to experience the best times of your life!
Apart from Nandi Hills, you can visit a lot of attractive places that are located very close to the resort such as Skandagiri, Lepakshi, Chikballapur, Tumakuru, and more – we will see this in detail in the later section of the blog. You can find Karma Sunshine Village in the backdrops of green pastures that's very close to the serene village of Ghati Subramanyam in Laguminahalli.
Karma Sunshine Village is just 30 kilometres from Nandi Hills and only 51 kilometres from the Kempegowda International Airport. Visit Karma Sunshine Village to relish the evergreen forests and panoramic views across Karnataka – we can assure you that nothing can get more mesmerizing than the scenes & views you will find here!
Now, talking about all these, let us see the top 4 nearby places to visit during your wonderful stay at Karma Sunshine Village:
1. Skandagiri for Trekking & Camping: There are numerous trekking sites near Karma Sunshine Village but the most attractive and pleasant one is Skandagiri. The place has lots of greenery and consists of minimal changing terrains and that's why Skandgiri is considered one of the best trekking spots even for beginners. Skandgiri is just 28 km away from Karma Sunshine Village. 
Best For: Hiking, trekking, and camping
Type: Hill Station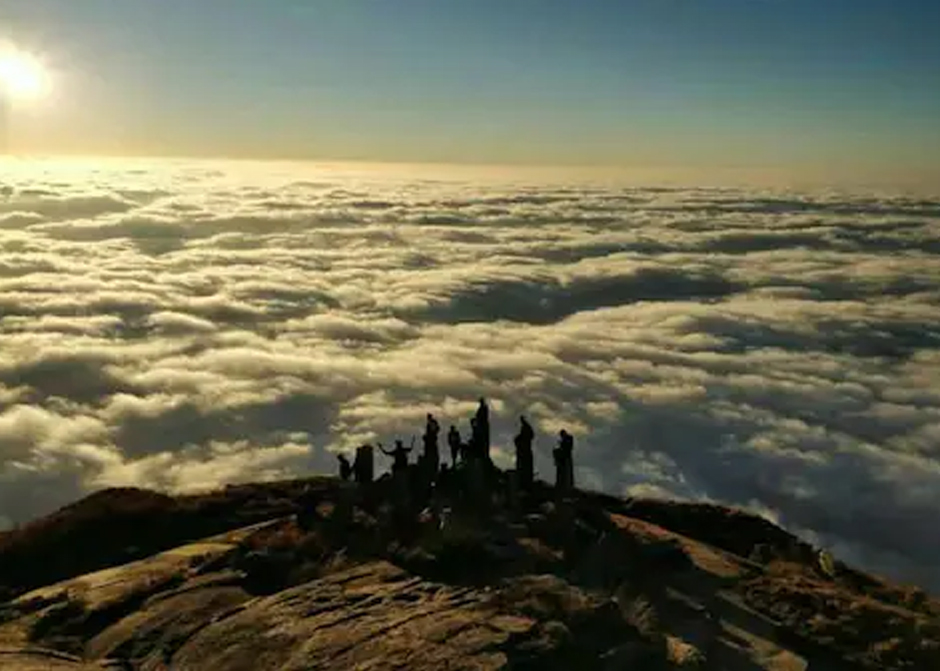 2. Lepakshi for its Stunning History: This place is situated at the border of Andhra Pradesh and Karnataka and has an astonishing history with lots of mythological stories. This town is very famous for its temples and remarkable architecture. Lepakshi is an ideal place for both pilgrims and tourists and its most spectacular zone is none other than the Hanging Pillars of Lepakshi. You should definitely visit this place! Lepaksi is just 55 km away from Karma Sunshine Village.
Best For: Friends and family members
Type: Ancient Temples
3. Tumakuru for Visiting Temples: Tumakuru is locally known as Tumkur and is one of the most popular industrial towns in Karnataka. Tumakuru has something for everyone – for example, you can find various amazing spots to take a hike in nature like the Ramadecara Betta or the Devarayanadurga hills. Did you know the Mandarin Jain temple is located near Tumkur and is a mesmerizing structure made to resemble the features of a peacock? Tumakuru is just 68 km away from Karma Sunshine Village.
4. Madhugiri for Rock Formations: Madhugiri is a small town that is very close to Tumkur and the unique rock formations have made this place a popular destination for those who enjoy the outdoors. Another best part of this place is Madhugiri fort and to reach there you will have to do hiking – which again leads to a super-scenic panoramic view of the city that lies below. Madhugiri is just 62 km away from Karma Sunshine Village.
Best For: Hiking
Type: Village
Now, you know the top 4 nearby places to visit during your wonderful stay at Karma Sunshine Village. So, what are you waiting for? Make a plan and pack your bags now! It is high time for you to have an enjoyable vacation with your family members.
Karma Sunshine Village provides the best way for a quick getaway from the hustle and bustle of namma Bengaluru. The resort is situated miles away from the concrete jungle so that you can enjoy some quality time with your loved ones. Karma Sunshine Village brings the perfect amalgamation of rustic cabins along with grass roofs,…
Karma Sunshine Village provides the best way for a quick getaway from the hustle and bustle of namma Bengaluru. The resort is situated miles away from the concrete jungle so that you can enjoy some quality time with your loved ones. Karma Sunshine Village brings the perfect amalgamation of rustic cabins along with grass roofs,…