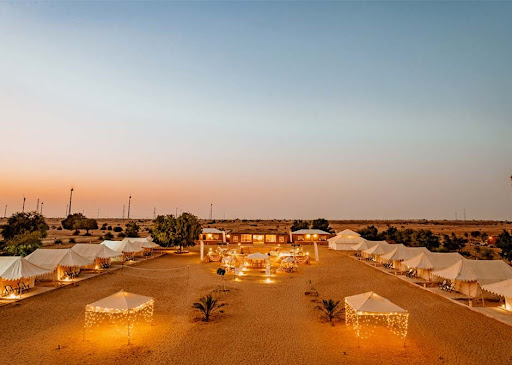 4 REASONS A HYGIENIC RESORT LIKE KARMA GOLDEN CAMP – JAISALMER WILL ENHANCE YOUR VACATION EXPERIENCE
"Health is Wealth" – now, in these tough times, we can understand the importance of this quote better than ever. It is no exaggeration to say that in the time of the ongoing pandemic, staying in a hygienic resort is a must keeping the safety of your and your family in mind. Did you know, 89% of Indians prefer to visit safe and hygienic domestic destinations even after getting vaccinated?
 It is obvious, no one can compromise on hygiene because it may put the health of your loved ones at risk and you definitely don't want that. It is highly recommended that you must stay in a super-hygienic resort so you can enjoy your much-deserved vacation with your family peacefully.
We urge you to have a look at our resort – Karma Golden Camp because it is one of our most hygienic resorts and we are not boasting anything; but are proud to say this because when our guests are happy and say good things about the resort – our heads are held high.
You can check a few customer testimonials here: https://karmaexperience.in/ and know why Karma Golden Camp – Jaisalmer is one of the best resorts in India for having a quick escape from the concrete jungles of a city that is filled with hustle and bustle.
Peace of Mind:

It is needless to say that a resort with better cleanliness and hygiene will provide you peace of mind; it is good for you as well as your family too because you can relish every moment without any hassle. You can focus on the stuff you love – such as taking a dip in a swimming pool, having your favourite meal or relaxing with your family inside our aesthetically designed canvas AC/non-AC Swiss tents. The choice is yours! 

Prevention of Diseases: It is evident that if the resort where you are staying is clean and hygienic then the chances of getting infected with any type of bacteria or virus become slim to none. You can stay healthy at all times in a luxurious resort like Karma Golden Camp. When you stay healthy – you will have a good mood and when your mood is good, you can enjoy Rajasthani dance, folk music, art, and culture, and more without any worries.
Enjoy Your Vacation:

You can enjoy your vacation to the fullest if the resort is hygienic and immaculate – you won't have to worry about the health of your family members. You can indulge yourself in creating memories that will last for a lifetime; enjoy traditionally authentic and delicious Rajasthani cuisine with your kids or savour every moment with your beloved during the candlelit dinner in the desert. Sounds like a dream, isn't it!

Better Comfort & Convenience:

We care a lot for your comfort and convenience and to ensure you are enjoying every second at Karma Golden Camp, we have trained our staff in a very particular way – especially the kitchen and the housekeeping staff members because they are the ones responsible for hygiene and cleanliness. They are available 24*7 for any kind of assistance you need. With a hygienic resort like Karma Golden Camp, you will have an amazing experience that you can share with your friends and family members. So, visit here and live the best times of your life; give your loved ones the moment they deserve.
Visit Karma Golden Camp for an Exciting Holiday Experience
Enjoy scenic views from your tent and be ready to get mesmerized by the picturesque beauty of Jaisalmer. Karma Golden Camp is located in Sam's Sand Dunes and this gets you introduced to The Thar Desert of Rajasthan. Karma Golden Camp is the perfect location to explore Jaisalmer and the nearby areas. If you are an adventurous person, Jaisalmer will be your go-to destination all the time. 
 Here, you will find myriads of adventurous activities that will surprise you for sure. At Karma Golden Camps, you can enjoy Sand Dunes Jeep Safari, Parasailing, Camel Rides, Para-Motor Gliding, Arabian Nights and more which will keep your day and nights filled with excitement. So, what are you waiting for? Pack your bags and visit Karma Golden Camp for a memorable experience.
 You can know more about us here: https://karmaexperience.in/about.html
"Health is Wealth" – now, in these tough times, we can understand the importance of this quote better than ever. It is no exaggeration to say that in the time of the ongoing pandemic, staying in a hygienic resort is a must keeping the safety of your and your family in mind. Did you know,…
"Health is Wealth" – now, in these tough times, we can understand the importance of this quote better than ever. It is no exaggeration to say that in the time of the ongoing pandemic, staying in a hygienic resort is a must keeping the safety of your and your family in mind. Did you know,…